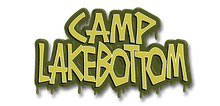 Camp Lakebottom is an canadian/american cartoon which ran from July 4, 2013 to July 24, 2017. It follows the adventure of the 12 year old prankster, McGee and his crew from the eponymous camp and fight the campers of the rival camp, Camp Sunny Smiles, as well as other enemies including paranormal and mystic creatures and rare phenomenons.
Cartoon Network/Hanna Barbera references in the Fandomverse
Characters of the franchise can be seen in some images and material of the Fandomverse. It is noted that their appearances are non-canon, since this cartoon doesn't even exists in the fandomverse.
See also
[1]The wiki of the cartoon and the franchise of the cartoon itself.
[2] Camp Lakebottom in wikipedia.
References
Community content is available under
CC-BY-SA
unless otherwise noted.